Click here for list of publications



Thermal Performance of Buildings Using Infrared Thermography
Improving the efficiency of energy use is an effective strategy to achieve both energy savings and environmental ambitions. A most immediate and direct environmental benefit of improving the efficiency of energy consumption is a reduction in the use of resources and in the emission of many air pollutants. From the financial point of view, one of the first priorities towards addressing the energy problem is energy conservation. My research in this area includes using infrared technology for assessing thermal performance of buildings.

Advanced Manufacturing Technology
My research work in advanced manufacturing technologies includes many years of experience in manufacturing processes and machining operations including process optimisation, modelling and quality control. My knowledge also includes experience with Variax Hexacenter™ Machine Tool, CMM programming, Renishaw laser measurement, PLC's and CNC's programming, Makino A55 programming, Bridgeport CNC programming and developing of fixturing systems.


Condition Monitoring and Sensor Fusion
My experience in condition monitoring includes sensors selection and installation, image processing, signal processing methods, analogue and digital processing, data acquisition, computer programming and interfacing, sensor fusion, embedded systems, internet-based monitoring, developing new design algorithms and integration of systems.


Condition-Based Maintenance (CBM)
The competition in today's market has attracted maintenance engineers to adopt condition-monitoring technology as a tool for condition-based maintenance (CBM) to increase productivity and improve reliability of production systems. One of the projects that I was involved in is evaluating the applicability of an autonomous, low-cost infra-red thermal imager for CBM applications in UK Post Office sorting machines. For more details please visit ALCIS project.


Image Processing
In my current research I am using infrared and visual image processing for many industrial applications including detection of faults in mechanical and electric systems, monitoring manufacturing operations, drivers monitoring and measuring people's density.


Infrared Thermography
I have been using low-cost infrared thermal imaging for most of my current research (see above). This includes software development, interfacing, and internet/java connectivity.


Robotics and Control
My reserach in robotics and control includes:
-Designing and implementing a control system for a prototype test leg for a desktop parallel kinematic link machine tool, University of Nottingham, 1997.
-Design and simulation of an educational robot, Tampere University of Technology, Finland, 1994.


Software development and Electronics
During my teaching and research work, I have acquired proficiency in computer programming using many of the available software such as programming languages (e.g. Java, C, VB, Pascal, Basic, Fortran, Matlab, Labview, Labwindows/CVI ), simulation software (e.g. Simprocess, Simulink) and other engineering software. My experience also includes design and publication of Internet home pages and IT teaching for two years at the University of Nottingham. My analogue and digital electronic experience includes the design and manufacturing of a bar code reader which includes the hardware digital and analogue design and the software programming using Visual Basic.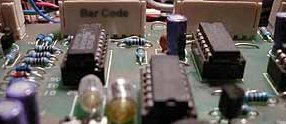 Process Modelling
Modelling of manufacturing systems is an important technology to improve productivity. My research in modelling and simulating includes working with international companies to study their distributed manufacturing environment for optimising their logistics and manufacturing processes.